The 2022 Subaru Love Promise Community Commitment Award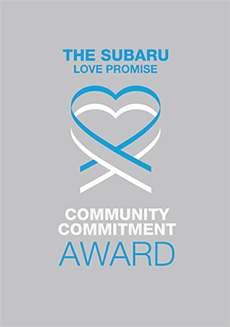 We've been nationally recognized for our dedication to our community and the Subaru Love Promise.
We're honored to receive the 2022 Subaru Love Promise Community Commitment Award. This award nationally recognizes Subaru retailers who are making the world a better place while demonstrating an outstanding commitment to supporting passions and causes in local communities. These efforts are focused in important areas such as the environment, community, health, education, and pets.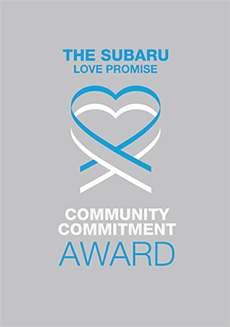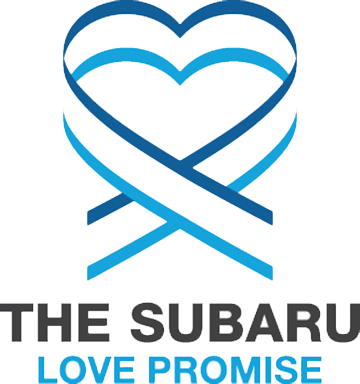 What is the Subaru Love Promise?
Subaru and our retailers believe in making the world a better place and the Subaru Love Promise is our vision of respecting all people. This is our commitment to show love and respect to our customers and to work to make a positive impact in the world.
How is Wilde Subaru dedicated locally to the Love Promise?
Our Love Promise can be seen in various partnerships with local charities and non-profits. We're grateful for the opportunity, not only to be a part of our community, but to serve it as well.
Humane Animal Welfare Society (HAWS) of Waukesha
Subaru Eco-Friendly Retailer
Food Pantry of Waukesha County, Toys for Tots, Boy Scouts of America, Project Echelon, Waukesha Police and Fire
Love Promise Stories from Wilde Subaru
Subaru and Wilde Subaru believe in making a positive impact on the communities in which we live and work. We uphold that belief through our Love Promise Community Commitment. Every month, we select inspiring stories from customers and partners from around our area who strive to support our collective commitment and feature them here
A Very Happy Ending! - Katie G
HAWS (Humane Animal Welfare Society of Waukesha County) hosted their 5th Annual Same-Day Adoption Event at Wilde Subaru on October 9th of 2021. It was an extremely successful day, and 10 animals were adopted to their forever homes in just three hours! This event is possible thanks to a grant from Subaru and ASPCA. Animals went home with a reduced adoption fee thanks to the funding we receive. We want to share one special story about a cat who found her forever home thanks to this event! Sheila came to HAWS as a stray on September 3rd of 2021. She was noted to have an excessive amount of hair loss on her body and was very skinny. HAWS helped bring her back to health, and ran a variety of tests to help determine how to best care for Sheila. She was treated for a URI, given fluids daily until she was better and extensive bloodwork was done. Her results showed that she would need special care, but that didn't stop her family from adopting her! Pictured here, this kind couple fell in love with her. They were so inspired by our mission, that they even donated an additional $500 to HAWS! We are so incredibly thankful to Subaru of America, ASPCA, Mike Scott-Wilde Subaru Sales Manager, and the entire Wilde Subaru Team for helping us make these events possible! See you in 2022!
---
Helping to plant 5,000 trees - Jonathon H
As a Subaru Crosstrek owner I always hear about Subaru dealers and employees working with local charities and helping out when needed. Whenever I'm at Wilde Subaru, I am reminded of this and I mostly brushed it off as just talk. However when the time came, Wilde Subaru put their words into action. I needed help planting 5,000 tree saplings, yes that's right 5,000. I called and Wilde Subaru answered. We started early in the morning and by nightfall, all 5,000 trees were planted. I couldn't have done it without their help and I will always appreciate what we accomplished that day. Love Subaru, love Wilde! -Herrmann Farms
---
Subaru Loves to Care - Jennifer S
Subaru of America, Inc. continued its longtime partnership with The Leukemia & Lymphoma Society (LLS) for the sixth consecutive year to send love, hope and warmth to patients battling cancer during Subaru Loves to Care month in June. As part of the partnership, Wilde Subaru and a record 606 participating Subaru retailers nationwide supported more than 40,000 blood cancer patients by mailing blankets and messages of hope, handwritten with love and care by Subaru retailers and customers, directly to patients' homes. Visitors to Wilde Subaru retailers were given the opportunity to write personalized messages of support to cancer patients in their local communities. Our local LLS Upper Plains Region couldn't be more thankful for Wilde Subaru coming alongside our patients in such a tangible and comforting way during cancer treatment! Survivor Kaleb and his family says it best below: Subaru Partners— Thank you all for the support you have given to our son, Kaleb, who was diagnosed with AML in January of 2020. Our family has received help through the LLS Travel Assistance program and the Urgent Need program. These two have helped out our family tremendously. Not only for travel cost, but not having the burden to worry about other costs associated with having a child in the hospital for six months and ongoing appointments after that for follow-up. Your support and generosity is appreciated more than you will ever know. We are so blessed to have organizations like yours to help families like us. Thank you from the bottom of our hearts! Dave, Cassandra, Kaleb, and Alayna
---
Cycling Saves Lives - Eric H
Wilde Subaru has been a loyal and supportive sponsor of the Project Echelon veterans non-profit since its founding in 2016. In 2020, the organization served over 200 veterans and saved veteran lives through its mission to educate, equip and empower veterans through physical activity. The following is a story of how veterans within the organization are now acting as servant leaders to give back to the organization that helped them. This type of work would not be possible without the support of Wilde Subaru. The following story exemplifies everything that Project Echelon is about. Active duty service member, Aaron Hunnel, worked with Project Echelon this summer to complete a 24-hour bike ride while pulling an empty chariot and two American flags, as an effort to raise awareness for and remember the 22 veterans a day that commit suicide. After a successful event, Aaron is going even bigger for his next ride – he has assembled a crew to support him in a ride across America, pulling that same empty chariot from the coast of California to the coast of Virginia, with the goal of raising enough money to donate 100 bicycles from our partners at Argon 18 to veterans in need. This is the story behind Aaron Hunnel and the Ride 2 Stop Suicide: The Ride 2 Stop Suicide is about aligning forces with military veteran organizations, communities, friends and families so we can work together to reduce the stigma associated with suicidal ideation, and get bikes in the hands of veterans around the country. We want to bring light to the veteran community and let them know that they are not alone, but rather there are many ways to feel a sense of purpose and connection to life. Suicide is tragic for so many reasons – Not only does it impact our families and friends, but it also impacts our communities. Veterans are at a high risk for suicide because of the service they provide to this country. Suicide is the last resort for someone who is hopeless and helpless. Fortunately, there are many opportunities to intervene before the hopelessness and helplessness becomes unbearable. Biking is one way to combat depression, anxiety, or even PTSD, and physical activity is one of the best interventions for someone struggling with their life, health, or wellness. A bike is a tool which represents the momentum we must generate by pedaling and making the wheels turn. Pedaling can be hard, especially when climbing a hill, but it's the only way to make this tool work properly, and so you can get from where you are to where you want to go. We must pedal to generate hope, cultivate strength, and move forward in life; and not just for ourselves, but also for our families and communities. On September 11, 2021, military veteran and ultra-endurance athlete Aaron Hunnel will bike 3100 miles from Oceanside, CA to Annapolis, MD while pulling an empty trailer on his road bike. The empty trailer symbolizes those military veterans we have lost to suicide. Our movement will raise $150k that will go directly to Project Echelon and be used to purchase 100 Argon 18 road bikes which will be given away on Veterans Day 2021 to our veteran organization partners. Spreading awareness is great, but it's not enough. We need to make a difference in our veteran communities by intervening with practical solutions. These veterans are our mothers, fathers, sisters, brothers, neighbors, friends and coworkers.
---
Growing our Humane Community - Katie G
In October of 2020, Wilde Subaru hosted HAWS for their annual same-day adoption event. As we all know, 2020 has been a very unique year, but Subaru certainly didn't let that get in the way of planning a fantastic and safe event! HAWS received two transports of dogs from down south before this event, one was even from a hurricane evacuation in Louisiana. It was very important this year to have a platform where HAWS could showcase as many animals as possible. Due to COVID-19, the shelter had only been available for animal viewings by appointment since March. With a shelter that is normally hustling and bustling with the public walking through the animal wards, it was a fantastic opportunity for the public to meet more animals at one time. Our community was so excited to finally have the chance to come interact in-person in a safe, and socially distanced environment. HAWS brought along a total of eighteen animals to the event, seven dogs and eleven cats. As a result of this one-day event, 13 of these animals successfully found their forever homes. HAWS is so thankful for our many volunteers who were able to assist this day. My favorite story of the day shows the importance of HAWS having outreach events like these. Kirby, one of the dogs who was adopted at the event, has now made a full circle to HAWS training classes. Carrie, one of HAWS behavior class teachers helped the family with Kirby's adoption paperwork and mentioned that she was a teacher of basic manners classes. This event now helped HAWS create a lasting relationship with Kirby and his new family! This event allowed us to showcase some of the fantastic animals that we have available at our shelter, and we were thankful to all who helped. We appreciate the help of the Wilde Subaru staff, especially sales manager Mike Scott for his hard work and dedication to this partnership. HAWS looks forward to continuing a fantastic partnership with a company that cares about animals as much as we do. That you, Subaru of America and ASPCA!
---
Caesar Goes Home and 50 Other Great Tails! - Eugene S
In 2017, HAWS (Humane Animal Welfare Society) was invited by the folks at Wilde Subaru to have a Same Day Adoption Event sponsored by Subaru of America. Although HAWS hadn't performed same day off site adoptions before, we jumped at the opportunity to partner with Wilde Subaru. HAWS brought 10 dogs and 4 cats to this event with the hope of getting them in their forever homes before the end of the day. By the end of the event, 10 of these animals had ridden off into the sunset with their forever families and Subaru paid for their adoptions. By any measure, the event was a true success! These events aren't just about adoptions. They are also about healing and learning to trust for some of our most vulnerable four legged friends. Take the story of Caesar, the Asian Mastiff mix rescued from a Korean meat farm a couple of months earlier. When he came to us, Caesar was completely shut down, in poor health, and with no concept of how to socialize. His stare was vacant for the first few weeks while he recovered from his illnesses. It was almost as if we weren't even there. The HAWS staff and volunteers started working with Caesar a few weeks before the same day adoption event. At that time, we could only hope that he would come out of his shell enough to be available for adoption and only after months and months of hard work. To be able to join us for our first Subaru adoption event was a mere pipe dream. Not only did Caesar need to learn to socialize, he also needed to learn how to walk on leash, walk on grass, walk through doors, walk up and down steps, and many other activities we so often take for granted. Caesar showed progress in the first few days, so one of our staff members took him under their wing and began taking him on field trips away from HAWS. The first thing Caesar mastered was jumping in the back of a Subaru. That alone took several days. Once he mastered that skill he would never forget it! Who doesn't want to jump in the back of a Subaru! From there it was off to join the world on city sidewalks, nature trails, and visits to the staff member's home. As the Subaru Adoption Event drew near, we decided it was worth the gamble to bring Caesar with us. And it was a gamble that paid off! Caesar behaved like this event was set up for his personal enjoyment. The more he interacted with people and dogs, the wider the smile on his face got. The wider the smile on his face got, the more he interacted with people and dogs! We celebrated this awakening with tears of joy! Just a few weeks earlier we couldn't have imagined this happening. Although Caesar didn't find his forever family that day, a nice couple saw his pictures posted on HAWS social media after the event and knew they needed to meet him. The husband was an Afghan war veteran and had been through so much in service to his country. Perhaps he and Caesar could help each other to heal from their physical and emotional wounds. When they met, we knew right away they were meant for each other! Caesar went to his forever home the next day. A few weeks later we received a nice note from Caesar's new dad. He told us that Caesar was the dog for them! He then said that until Caesar learned to walk up a flight of steps, daddy had to carry him to bed every night...not an easy task for a 95lb. dog! Once he mastered the flight of steps, Caesar went up and down them over 100 times in the first day! Everything Caesar learned in his new home he did with joy, happiness, and abundance! And they lived happily ever after! All told, in HAWS' partnership with Subaru, we have positively impacted the lives of countless animals, including the 50 plus animals that found their forever homes as a result of our Wilde Subaru adoption events. Subaru and their employees have made a major impact in advocating for animals over the last several years. When people think about doing the right thing, all they need to do is follow Subaru's example as a "how to" when getting in the battle to make a difference in the lives of less fortunate animals. What an incredible legacy! All of us at HAWS are humbled and honored to stand shoulder to shoulder with Subaru to help contribute to this legacy now and well into the future. Thank you Subaru for inviting us in on the ground floor! You are a true community partner and we are grateful to be included in this mission!
---
Wilde Subaru Delivers Hope to Cancer Patients - Karen R
On Monday, July 22, 2019, Wilde Subaru and The Wisconsin Chapter of the Leukemia & Lymphoma Society delivered hope to patients and staff at the UW Cancer Center at ProHealth Care. Wilde Subaru delivered blankets, craft kits and messages written by staff and customers to patients fighting cancer. James Herbert is a lymphoma patient that was thrilled to receive a gift and a visit while receiving his treatment. Jim was diagnosed with a very rare lymphoma and is undergoing chemotherapy and preparing for a transplant. He has a severe allergic reaction to one of his medications and is administered a strong antihistamine with every treatment. He was excited to nap with his new blanket and grateful for a thoughtful gift. The nurses and center director were excited to have something to offer patients to let them know they were being thought about by people in the community. The Leukemia & Lymphoma Society is grateful to Wilde Subaru for their support through the Loves To Care program.
---
ABCD Feels the LOVE from Wilde Subaru! - Julie F
A huge thank you to Wilde Subaru for their generous $4,200 in-kind donation helping ABCD: After Breast Cancer Diagnosis elevate awareness about the services it offers to those affected by a breast cancer diagnosis. ABCD and Wilde are a team and there's no stopping us now! Here's how ABCD works: "When I heard the words, 'You have breast cancer,' my world shattered. Never did I expect to be dealing with this diagnosis at 32 years old with 2 small children at home. How do I explain to them why mommy's hair is falling out?" These are words from Nichole K., who sought services from ABCD: After Breast Cancer Diagnosis. ABCD, a non-profit located in Milwaukee, provides free emotional support to breast cancer patients and their families. Our signature service matches professionally trained volunteer breast cancer survivors (mentors) with patients and their families and friends (participants). These highly personalized, one-to-one connections are created based on a person's priorities and life stage as well as specific diagnosis and treatment plan. Nichole adds, "At the recommendation of my cancer counselor, I reached out to ABCD. It was incredibly reassuring to speak with someone whose experience was so similar to my own, and who had made it through treatment successfully." In 2018, more than 2,500 people relied on ABCD to answer questions, provide guidance and create unique matches. Nichole, now 5 years out from her cancer diagnosis, is a trained mentor. "If there is a reason that I was diagnosed and reached out to ABCD, it must be so I could help others who are going through the same thing." Wilde Subaru's donation helped increase awareness about ABCD which will also help increase funding. With more funds, we can reach more people in need of our non-clinical services. It means more mothers, sisters, fathers, daughters, sons, husbands, wives, children and parents will have access to ABCD and the emotional support provided by ABCD mentors, staff and volunteers every step of the way. ABCD feels the LOVE from Wilde Subaru and looks forward to strengthening our partnership! Thank you!
---
Wilde Subaru Delivers Love and Hope to Patients - Megan K
In Waukesha community is a way of life. No one exemplifies this more than Wilde Subaru. For the third year in a row, they partnered with the Leukemia and Lymphoma Society to deliver blankets and personal words of hope to cancer patients undergoing treatment at Froedtert and the Medical College of Wisconsin's clinic in New Berlin. Wilde Employees each took some handwritten messages from their customers as well as blankets and set off into the infusion center to greet patients. No connection made that day, however, was more touching than the one they had with Mary. Mary came into the infusion center and received a blanket as she took her seat to begin treatment. This delivery, though, was going to be different than the others that day. Little did the employees at Wilde Subaru know when they started the day that they would be delivering a blanket and messages of hope to one of the Wilde Subaru family. Mary's father has been a driver for Wilde Subaru for nearly two decades, and on this day his daughter was receiving support in a way that she could have never expected. Upon learning that the blankets were part of the Subaru Loves to Care partnership with LLS, a feeling of delight permeated the infusion center, and there was nothing but smiles from everyone involved. This delivery was one that will hold special meaning for everyone, and now, Mary knows exactly what kind of compassion the company her father has worked at for so long has.
---
Boy Scouts of America Pinewood Derby - Matthew W
The Potawatomi Area Council, Boy Scouts of America is greatly appreciative of everything WILDE Subaru has done for the boys, volunteers and for the community. WILDE Subaru generously partnered with the Boy Scouts to provide an opportunity for all Cub Scouts to be able to expand their Science, Technology, Engineering and Math skills through participating in the Cub Scout Pinewood Derby. WILDE Subaru purchased over 4,000 Pinewood Derby cars to give out to every qualified Cub Scout, allowing each Pack to save $4.50 per child. Thanks to WILDE Subaru, the Potawatomi Area Council held the second annual Pinewood Derby Championship in Lake Country on Saturday, March 24. The top three fastest cars from each Pack Pinewood Derby qualified to race. The competition was broken out by grade with five divisions. Over 150 racers came out to compete. At the end of each division, the top three Scouts received division trophies and the top three overall winners were calculated and presented championship trophies at WILDE Subaru on Wednesday, April 11. Along with championship trophies, the three willbe heading to New York City to race in the National Pinewood Derby in Times Square on Saturday, June 23. Without the generosity of WILDE Subaru, none of this would have been possible. WILDE's investment helped teach kids about STEM, provided Packs with the ability to put funds toward additional programing and services and taught thousands of kids about craftsmanship and sportsmanship. Most importantly, WILDE Subaru's investment helped over 4,000 parents to spend morequality time with their children as they worked together to build their Pinewood Derby cars. The benefits of WILDE Subaru's donation to the Boy Scouts of America will pay dividends to these young men for years to come.
---